We are so excited to announce the release "Of Ruin and Renewal: Poems for Rebuilding" by our friend and ABTM writer, Liz Newman. Let me tell you for a second why this woman is badass.
Liz sought out to write a second book, and without hesitation, delivered a masterpiece. Not only is she the perfect example of passion and dedication, but she is also ALWAYS the first to write a book review for her friends and fellow poets.
She is one of the kindest and thoughtful people I have ever had the pleasure of knowing. And her writing is a reflection of that.
Rooting for Us
So many people are
hurting in their own way.
Trying to heal
in the own way.
Even if we don't
always talk about it,
I'm rooting for all of us
to be okay.
Liz writes with courage.
Let me explain why this is so rare, have you ever read a quote or prose that is full of platitudes? No original thought or feeling. For me, too many times to count.
Every line from "Of Ruin and Renewal" comes from a place within her; it's full of life. I am experiencing a vulnerability from her that allows me to be vulnerable in return. She set out to inspire her readers, asking nothing in return.
Alfa, another friend, and brilliant writer wrote the forward:
"The mark of a great poet is one that can tell a story, and one worth remembering, in a condensed form that rolls off your tongue and finger walks around the curves of your heart.
Liz Newman has mastered the art of storytelling in her second volume of poetry: Of Ruin and Renewal.
This book sheds needed light on the neglected and life-worn crevices we desperately harbor inside. The storage rooms where our hurting hearts are shielding the damage become bathed in light, and the healing of the authentically penned poems encourage us to sift through the disarray and rebuild. The book's flagship poem sets the stage for the journey ahead.
We are souls /Of ruin and renewal /Sorting through the rubble /Of our painful past. /We are souls /Of ruin and renewal /Waiting for the dust /To settle at last.
You will be convinced that the author is magical by her ability to transport you to places you had long since forgotten. She is encouraging, truthful, and bold in her writing, all the while letting you see there is always beauty after the pain.
Of Ruin and Renewal is a poetry book that you will find yourself remembering and picking up time and time again."
Alfa Holden
Author of Abandoned Breaths and I Find You in the Darkness
Pain Repurposed
It's taking the pain,
Giving it new purpose,
As something tragic and beautiful.
Tragic in that it had to happen.
Beautiful in that you found a way
To make something
Resembling hope out of it.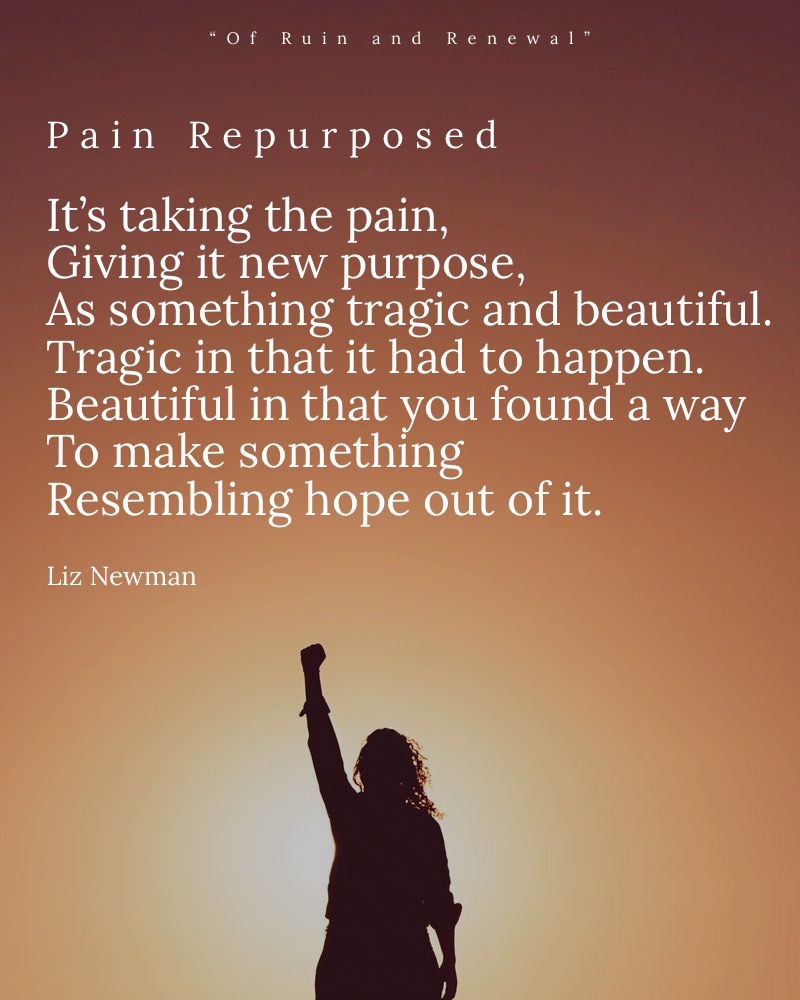 Please check out this book, available in paperback and kindle.